Quote of the Day
When you counsel someone, you should appear to be reminding him of something he had forgotten, not of the light he was unable to see.

- Baltasar Gracian, Spanish philosopher on how to give advice.
---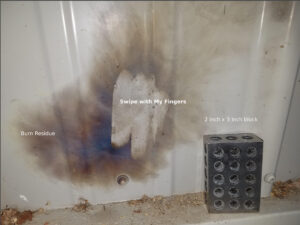 During a major storm two weeks ago with 80 mile per hour winds (129 kph) and heavy rain, we weren't surprised to find that our home had experienced some damage. Not as much damage as we initially thought, but enough damage to make us slightly concerned. As you'd think, the roof took quite a beating and we've already put a call into a local roofing service that is similar to this roofing company Raleigh to help us repair any damage that it has. This is dangerous, so calling on the professionals is definitely the best thing that we can do.
Apart from the damage from the storm, a lightning strike near my garage destroyed two TVs, a power adapter for my robot lawnmowers, my garage door, a wireless router, two data switches, and my furnace's propane tank regulator and copper feedline. As an illustration of the damage, Figure 1 shows the residue left from my mower power adapter exploding. The light region inside the smudge is from my fingers wiping across the smudge to see how thick the film was. The film was removed using mineral spirits. A small burn mark is all that remains.
For those who wonder, I have all sorts of lightning protection on everything, including a dielectric separator between the propane tank and the furnace. This saved quite a bit my electrical equipment, but not everything.
I am in the process of fixing everything. I have looked online for companies that can provide queen city garage doors charlotte nc (and other nearby places), but am yet to pick one to dump all my repairs on. Additionally, because the power adapter is so damaged and a number of my circuit breakers tripping, I am guessing the surge came in through the garage power system. My cabin also suffered some damage because its electrical system is connected to the garage over a 120 foot (37 meter) cable.
Figure 2 shows the blown-up power adapter. I found the cover 13 feet (4 meters) away in the woods. The copper feed line to my propane tank was turned black and it developed a major leak, which allowed all the propane to escape into the soil. The smell of the odorant in the propane (ethyl mercaptan) is noticeable from the soil. I included a 1-2-3 block in Figures 1 and 2 for a size reference.